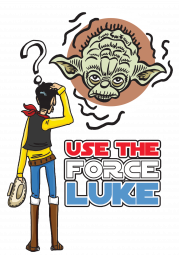 Design Use The Force Luke
Lucky luke et maître yoda : "Use the force Luke". Aller Lucky Lucke, on compte sur toi pour utiliser la force. Un jeux de mots entre le personnage Luke dans star wars et Lucky Luke qui sont des homonymes ! De quoi ravir les fans de personnages de séries tv, de films et de bandes dessinées ! Voici un mixe western / galaxie qui vous laissera perplexe et enjoué !
Personnalisez un produit avec ce dessin !
---