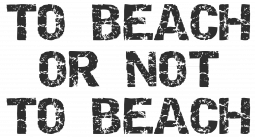 Design to beach or not to beach
Un t shirt personnalisé To beach or not to Beach.
S'inspirant de la fameuse réplique de "Hamlet" to be or not to be , traduit par être ou ne pas être, le t shirt personnalisé, drôle et décalé, to beach or not to beach pose une question qui l'été venu reste trés importante, est-ce que l'on va à la plage ou pas. ce dessin est idéal sur un débardeur et vous imposerez votre style cet été lors de vos vacances.
Sélectionnez parmis nos t shirts, polos et sweats le support qui vous convient.
Cet été soyez original grâce à nos polos et tshirts personnalisés. C'est sur vous que l'on se retournera sur la plage.
Personnalisez un produit avec ce dessin !
---